The Best Asphalt Paving Company in La Plata Maryland
Have you ever spotted a recently installed driveway in your neighborhood? The dark surface gives the whole property a fresh and beautiful look. The team at Calvert County Asphalt Paving can help your home look newer and more welcoming!
But it's not just about curb appeal. A poorly installed and maintained driveway doesn't just look bad. Widening cracks and potholes can become trip hazards and possibly injure you, a family member, or a visiting friend. The stains caused by car oils and the growth of algae and mold can also wear away at the surface. How can we help? And what makes us different than other paving companies?
It might be tempting to go with the cheapest paving service you can find. But we recommend going with the service that has the best reputation. Why are we the best asphalt paving company in La Plata?
Many lower-cost contractors are often able to save on the price of their services by taking shortcuts in their techniques and using inferior materials. Hiring a contractor like that will leave you with a poorly paved driveway and costly repairs. Give us a call to get your project done right the first time.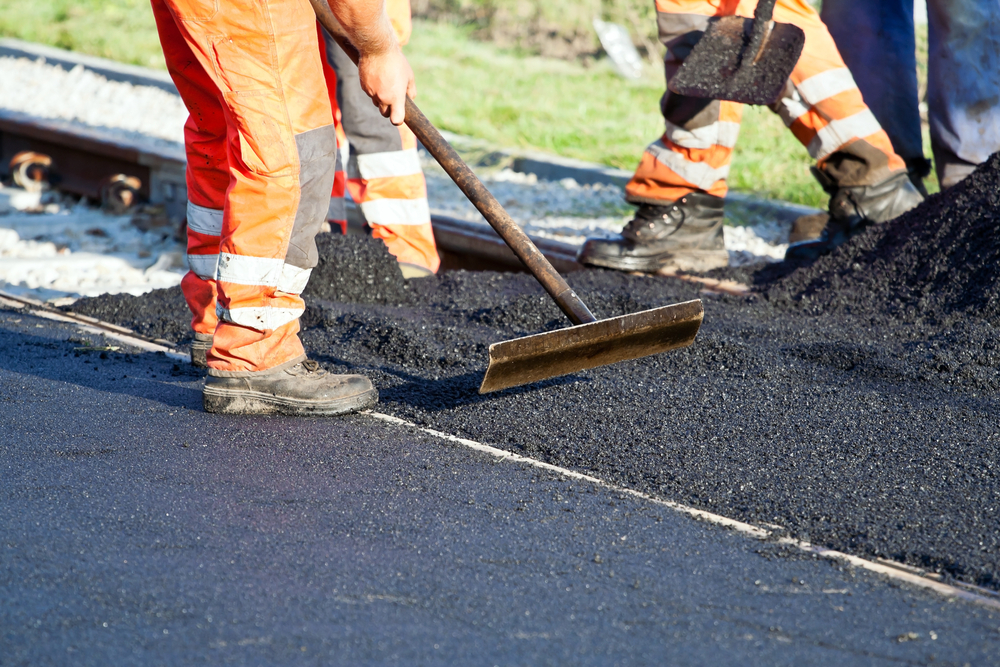 We use professional-grade equipment and proven industry techniques to get the job done right.
Services We Provide
Driveway Repair
Driveway Replacement
Asphalt Millings
Commercial Parking Lots
Line Striping
Resurfacing
Sealcoating
Fill out this Form or Give Us a Call
Driveway Repair & Replacement
No matter how well-installed your driveway is, due to regular wear and tear, it'll eventually need repairs. And after it's lived a good, long life, it'll need to be replaced. What kind of maintenance services will ensure your driveway lasts as long as possible? And how do you know when it's time for a replacement?
Regular maintenance extends the life of your driveway and saves you money by preventing major (and expensive!) repairs. How does the team at Calvert County Asphalt Paving of La Plata do this? We regularly inspect the surface and address any minor damages before they become expensive problems. What are some of the minor repair services we perform?
Signs That Your Driveway Needs to Be Replaced
Cracks several inches deep and wider than a quarter-inch
Multiple deep potholes
Drainage issues that direct water towards the foundation of your home
Spiderweb or alligator cracks
Several issues that require independent repairs
Crack Filling
The wear and tear caused by vehicle traffic, temperature changes, and extreme weather all contribute to the formation of cracks. Unaddressed, these cracks can widen, causing further damage to the surface. When we notice cracks, we first clean them out. And then we fill them with high-quality crack filler.
Skin Patching
But what if it's more than a crack? That's where skin patching comes in. When we see depressions or potholes, we apply an asphalt emulsion on the damaged area. Then we patch the area with fresh asphalt and professional compacting equipment.
Sealcoating
To make sure your driveway lives a long life, we apply a new layer of sealant to its surface every few years. Not only does it give the surface that nice, dark look, sealant also shields it from damaging outside elements like car oils, algae and mold growth, and extreme weather conditions.
Why Choose Us?
The hallmark of a good paving company is knowing how to properly assess a damaged driveway or parking lot and using the right tools and techniques to repair it. Without this know-how a contractor can do more harm than good. So why should you choose us to provide these services?
100% Customer Satisfaction Guarantee
Friendly & Affordable Service
Certified & Insured
Uses Professional-Grade Equipment & Material
Fill out the Form Below or Give Us a Call
Asphalt Millings For Your Driveway
What are asphalt millings? They are tiny, 100% recyclable asphalt pieces that are pressed together with both a pneumatic-tired roller and drum roller to create a driveway that can last up to 30 years.
Why do we at Calvert County Asphalt Paving of La Plata believe that asphalt millings are the best choice for your driveway? Because they use fewer natural resources, they're good for the environment, simpler and cheaper to install, and easier on your wallet! Plus, they're durable and easy to maintain (especially when it comes to Maryland's harsh winters).
Commercial Parking Lots & Line Striping
Have you ever been to a business with a parking lot full of potholes? A poorly maintained parking lot makes a bad first impression. And we want to make your company in La Plata look good. How do we do that?
We provide all commercial paving services including sealcoating, resurfacing, patching, and full parking lot replacement. We install and maintain commercial parking lots that are durable and safe even when subjected to harsh weather and constant traffic.
For our team, it's not just about installing your lot as quickly as possible. Before installing each parking lot, we do a full inspection of the area, giving serious consideration to the following issues:
Is there sufficient water drainage?
Is the foundation strong and stable?
What's the condition of the subgrade level? And is it fully compacted?
Line Striping
Of course, we won't just leave you with a blank lot. We're here to help you with your parking lot paving project in La Plata from start to finish! That includes line striping. The high-quality paint we use is highly visible and it's designed to adhere strongly to asphalt.
Clearly painted lines will keep people safe in your parking lot. It'll increase the visibility of pedestrian walkways, traffic flow arrows, and parking spot lines. We also make sure to adhere to the ADA's guidelines regarding wheelchair-accessible parking spaces.
Resurfacing
What if your driveway needs more than a patch job, but less than a full replacement? We can help with that too. Our resurfacing technique involves removing and replacing the damaged top layer. How can you determine if resurfacing is right for you?
Repair, Resurfacing, or Replacement?
If the cracks are more than surface-deep and are wider than a quarter-inch, patching and crack filling won't be enough. So is resurfacing or replacing the answer? That depends on your foundation. If you have a solid foundation, resurfacing is the way to go. But if your foundation is weakened or unstable, your driveway needs to be replaced.
La Plata, Maryland
We're proud to care for the driveways and parking lots of La Plata, Maryland. As Charles County's #1 rated paving company, we provide the home and business owners of La Plata with the best possible service.
Other Areas We Service in Charles County
Not located in La Plata? Don't worry. We service all of Charles County.
Waldorf
La Plata
Saint Charles
Indian Head
Bryans Road
Port Tobacco
Hughesville
Bryantown
Cobb Island
Pomfret
Bennsville
Potomac Heights
Rock Point
We stand behind the quality of our work. That's why we offer a 100% customer satisfaction guarantee! Give us a call to schedule a free consultation! We look forward to working on your La Plata paving project.
Fill out the Form Below or Give Us a Call